DIT (do it together)
WARREN, OH - 2015
DIT (do it together) is a fill-in-the-blank style pamphlet focused on the real life visioning and planning process behind Trumbull Neighborhood Partnership's (TNP) and Trumbull County Land Bank's (TCLB) community lead land reuse projects. DIT was inspired by the way TNP works with community members everyday-- facilitating workshops and discussions centered around land reuse projects all over Warren, OH. This work was designed in 2015 as a "to-go" version of the planning services and support TNP has to offer.

DIT offers citizens of Warren, OH the opportunity to create a vision for their own role in sustainable urban development, and understand the resources necessary to develop that vision. While the first few pages encourage residents to plan a real life project, the inside panel leads residents through a game-like experience, exploring hypothetical scenarios in a collaborative group.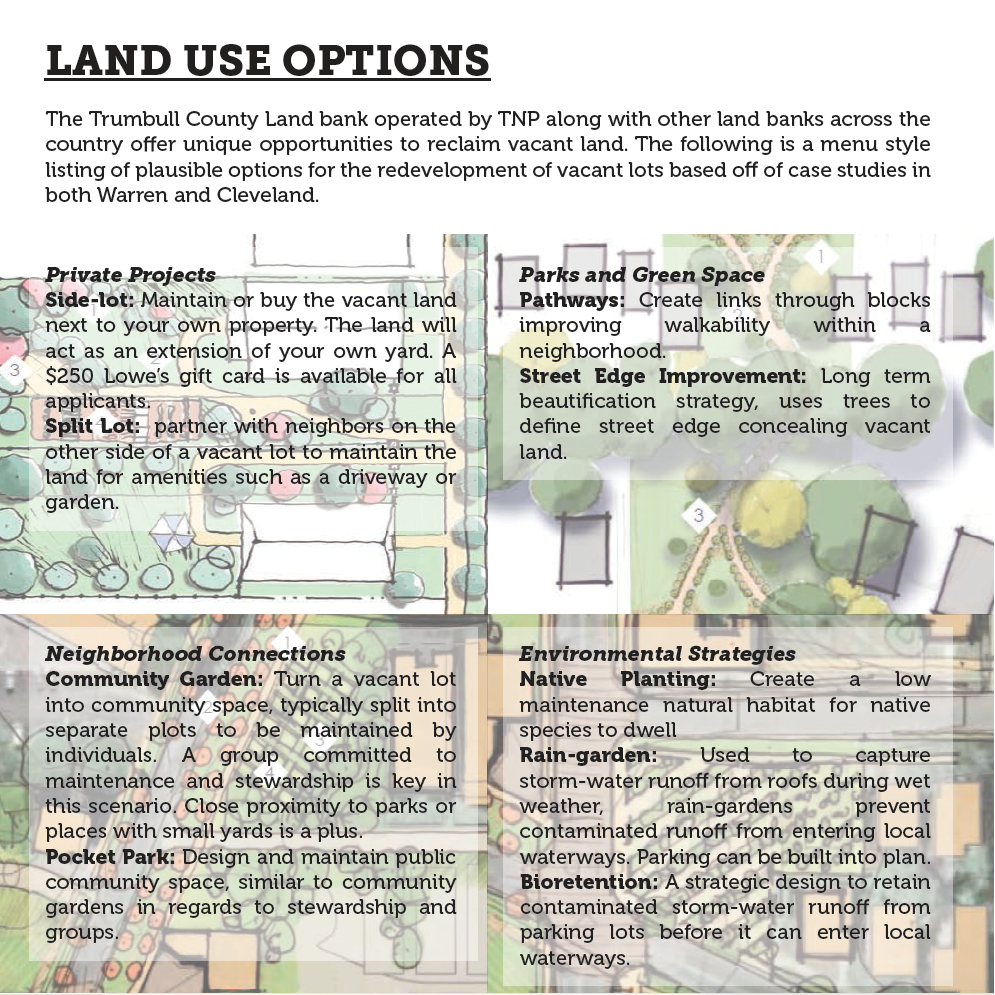 To understand TNP's process and develop DIT as a tool that responds to both community and organizational needs, research included on-site observation of TNP offices and field work, interviews with local project leaders, and in-context immersion-- living in Warren, OH for two consecutive summers, 2014-2015 while coordinating projects for TNP, the Fine Arts Council of Trumbull County's the Robins Project, and Inspiring Minds.
User testing took place throughout Summer 2015 within the TNP's Warren Enriched - Lots to Love program, part of the Ohio Housing Finance Agency's (OHFA) Neighborhood Initiative Program's (NIP) Community Challenge Grant in partnership with United States Department of Housing and Urban Development (HUD). The DIT model is still used within TNP today.
Cody worked with TNP and TCLB throughout Summer 2015 to increase capacity building efforts within the Lots to Love program. Through Lots to Love, for every tax-delinquent vacant house recently demolished through the TCLB program, a $6,000 grant became available for any type of passive or active 'greening' project stewarded by a local community group-- see potential project types outlined above in DIT. Responsibilities included: facilitating the creation of, and finalizing landscaping plans with community groups and landscapers; budgeting; selecting materials, both new and re-purposed from demolished homes; design and basic construction of special features, and landscaping work.